LitePanel Pro
Listed in category:
Professional Stage Lighting
>> Studio Lighting
<<Previous
Next>>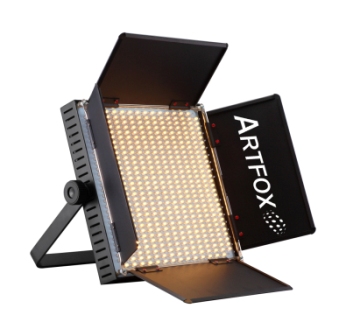 Related Resource:
Name: LitePanel Pro
Style: 448 cool white LEDs and 448 warm white LEDs
Price:
Inquiry Now
Inquiry now:
Description:
Variable Color Temperature LED Panel for Studio, TV, Film- LitePanel Pro
Battery-powered LitePanel Pro- LitePanel Pro EXT

The New LitePanel Pro is the ultimate broadcast LED TV/Film/Theatrical light. Featuring adjustable color temperature via DMX-512 protocol with 448 cool white LEDs and 448 warm white LEDs, total control is at your fingertips. It features a low heat , Over 90 CRI,
Considering outdoor event/party illumination, outdoor photography, our designer develop an battery-powered LitePanel Pro, which will work last 7 hours @ full. We call It as Litepanel PRO EXT(Extension)

Features:

Low Heat Output, Silent Fan Cooling, LitePanel Pro Is Variable Color Temperature Settings (3,200K - 6,500K), CRI Is Over 90.
2. Manual and DMX Controlled Color Temp and Dimming
3. Battery-powered Is Available, Ideal For Outdoor Illumination or photography (LitePanel Pro EXT)
4. Perfect Cool White, Warm White Mixing, Flicker Free Operation Ideal for TV studio, Film, Theater, Photography.


ELECTRICAL / THERMAL
AC 100-240V - 50/60Hz
75W Max Power Consumption


SOURCE
448x 3,200K Warm White LEDs
448x 7,000K Cool White LEDs
Over 50,000 hours Lifespan LED, The output CRI Is Over 90

PHOTOMETRIC DATA
740 LUX @ 2M 40° Warm White 3,200K
1280 LUX @ 2M 40° Cool White 6,500K
1900 LUX @ 2M 40° Full On 5,000K

EFFECTS
40° Beam Angle, Variable Color Temperature (3,200K - 6,500K)
Electronic Dimming (0% - 100%)
3 DMX Channel Modes (1/2/3)


STRACTURE / CONNECTIONS

Gel Diffusion Holder,Adjustable Barn Doors Included
(4) Button (2) Dail Control Panel LED Menu Display/1 Powers Switch
3 pin DMX In/Out (5-pin DMX Is customized)

SIZE / WEIGHT
Length: 14.5" (368mm)
Width: 12.6"(320mm)
Height: 4.53(115mm)
Weight: 12.79lbs (5,8kg)

Remark: The bags and truss are available as well, but not included, when you Inquiry, please kindly mark LitePanel Pro or LitePanel Pro EXT (Battery-powered LitePanel Pro)!


Inquiry for LitePanel Pro:
Don't Keep It To Yourself
Share this on Facebook if you have something to say about LitePanel Pro, or found it useful and want your friends to know about it