Ostar Eye K18
Ostar Eye K18
Beam and Kaleido effects, Ostar 18x15W RGBW LEDs
Price: Inquiry Now
Inquiry:
Description
Ostar Eye K18
is a high performance beam and flower open light, a breathtaking beam light, and a creator of completely new spectacular visual effects.
Ostar Eye K18
iscapable of generating a pulsating beam of micro-rays, which may be controlled individually, each with its own colors and shades.
The
ARTFOX Ostar
is very unique on the market was designed by ARTFOX, Its special optical unit with a truly amazing lumen/watt ratio, It is
30-40% brighter
than normal LED-wash with the same rated power.
It is featured by

1) 4° sharp beam effects
2) 4°-60° FX effects(Kaleido effects)
3) Super bright 18pcs Ostar RGBW 15W LEDs
4) super fast and quiet movement.
Specifications
Source Type: Ostar 18x15w RGBW 4-in-1 LEDs, 50,000 hours lifetime
Number of LEDs: 18
operating modes: Beam, FX effect
6 sections individual LED controls
Rotating front lens for countless vortex effects, for aerial or "kaleidoscopic" projection use
Pan: 540° Tilt: 270°
DMX: 20/40 chs
Variable Color Temperatures (2500K - 8,000K),built-in DMX Chanel
CONTROL / CONNECTIONS
(2) DMX Channel Modes (20/40)
4 Button Touch Control Panel
LCD Menu Display
3pin, 5pin DMX In/Out
powerCON Power In/Out
ELECTRICAL / THERMAL
AC 100-240V - 50/60Hz
295W Max Power Consumption
-13°F to 113°F (-25°C to 45°C)
APPROVALS / RATINGS
CE | RoHs Compliant | IP20
SIZE / WEIGHT:
Length: 14.2"(360mm)
Width: 11.1"(280mm)
Vertical Height:16.3" (410mm)
Weight: 22.7 lbs. (10.3 kg)
Summary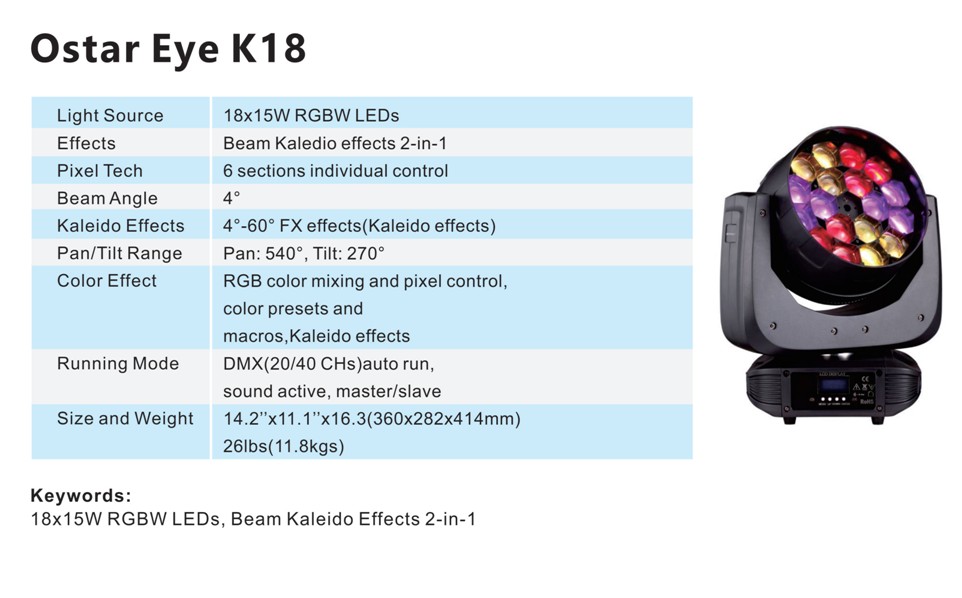 Inquiry for Ostar Eye K18
We will reply you in 24 hours, and please feel free to call +1-(323)287-5559 or email to sales@artfox.net