Handy Dual Scan
Listed in category:
Professional Stage Lighting
>> Led Effect Light
<<Previous
Next>>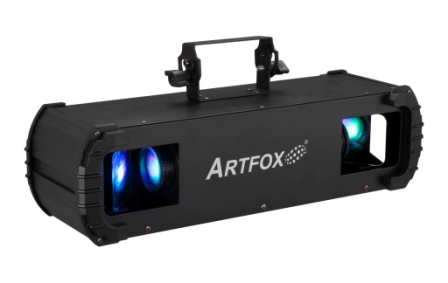 Related Resource:
Name: Handy Dual Scan
Style: 2x10w,Mirror effect Scan
Price:
Inquiry Now
Inquiry now:
Description:
Rocket Dual scan was Powered by two CREE 10W White LED, high output and gobo wheel with color Scanner, each scan has individually gobo/color wheels, It is smoothly dimming, strobe, color change, gobo change, Y movement, 2 scan is controlled individually as well. It is very flexiable for lighting designer and user. Meanwhile, It is sound-active, built-in program and by DMX, It is the un-beat scan for dj mobile, bar and events.

Specifications:

Multi-voltage: 100-240V, 50/60Hz (IEC Plug)
Power consumption: 45W max
LED source: 2x10w, Cree, White, over 50,000 hours lifespan, awesome output
Beam Angle: 15 degree
Color/gobo wheel: 2pcs , 9 gobos + 1 open white, 8 colors+ 1 open
3 operational modes: Sound active with built-in programs; Master/Slave or DMX-512 1/8 DMX channels (Dimmer/Strobe, Color, Gobo, & Roller Speed & Rotation)
4-button DMX LED Display or rear panel
Built-in programs (Sound Active & Master/Slave modes)
Linkable via 3-pin XLR cable
Awesome Scan effect, gobo/ color change
Y movement
Manual focus
Dimming 0-100% (when using DMX mode), 2 scanner is controllable individually
Wide scanner spread covers a large area
Beam angle: 15 degrees
In/Out IEC Plugs to daisy-chain power (link up to 9 units)
Dimensions (LxWxH): 21.5"x8.75"x.6.25" / 478x195.5x154mm
Weight: 13.5 lbs. / 5.5kg.


Inquiry for Handy Dual Scan:
Don't Keep It To Yourself
Share this on Facebook if you have something to say about Handy Dual Scan, or found it useful and want your friends to know about it