Handy flower 5
Listed in category:
Professional Stage Lighting
>> Led Effect Light
<<Previous
Next>>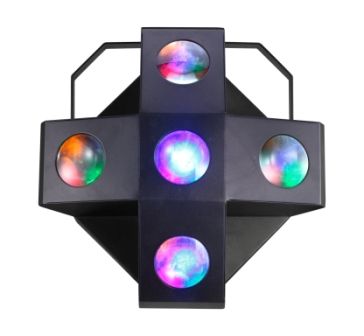 Related Resource:
Name: Handy flower 5
Style: moon follower beam 25x3w, RGBWA
Price:
Inquiry Now
Inquiry now:
Description:
Rocket Flower 5 features 25x 3-Watt red, blue, green, white and amber colored LEDs. This effect offers small clubs, bands, roller rinks and mobile entertainers the convenience of having multiple effects in one light show without having to transport multiple fixtures. There are 14 built-in light show that will help to create pure lighting excitement at any event.

Voltage: AC 100V-240V 50/60Hz , Auto-change
Power Consumption: 85W
25x 3W RGBWA LEDs (5x Red, 5x Green, 5x Blue, 5x White, & 5x Amber)
Large Beam Angle: 15 degree moon flower beam
Stand Alone or Master-Slave Configuration Set Up
3 Operating Modes: Sound Active/Show Mode/DMX Control
1 /3/5/9/25/29DMX Channel
14 Built-In Light Shows
Control Stand By, Full On, Color, Strobe, Speed, Sound, Show & Dimming
4-button DMX LCD display on rear panel
Linkable via 3-pin XLR cable
IEC Power Cord Daisy Chain
Dimensions (LxWxH): 13.5" x 9.5" x 13.5" / 338 x 241 x 338mm
Weight: 12.5 lbs. / 5.3kg.


Inquiry for Handy flower 5:
Don't Keep It To Yourself
Share this on Facebook if you have something to say about Handy flower 5, or found it useful and want your friends to know about it